Dental Implants – Star Valley, WY
Why should I get dental implants?
You should consider dental implants if you are looking for a permanent, healthy, and cost-effective solution for replacing your missing or failing teeth. Dental implants are one of the most popular tooth replacement options available today because they look, feel, and function just like natural teeth. In addition, no other tooth replacement option prevents the destructive bone deterioration that can occur from tooth loss — this means that like natural teeth, dental implants preserve the condition of your oral health. If you are looking for a solution to restore your smile, we offer the full scope of dental implant procedures at Star Valley Oral Surgery in Star Valley, WY.
Dr. Gregory McGee has placed thousands of dental implants and truly enjoys bringing healthy smiles back to his patients.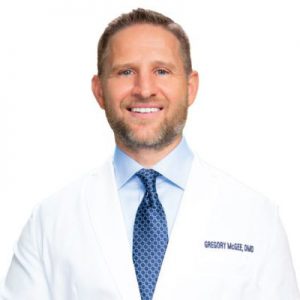 How do dental implants work?
Dental implants are the number one treatment option for the replacement of missing teeth. With this innovative three-part tooth restoration option, you can completely and permanently replace one or many teeth. The three parts of a dental implant are
The post (or

 

screw), which replaces your natural tooth's root — it is made of medical-grade titanium which is an entirely biocompatible material that fuses with your jaw bone during healing
The abutment, which connects the post to your new replacement tooth (or teeth)
The crown, which is custom designed by your restorative dentist to match your natural teeth
The strong bond between the implant post and the surrounding bone creates a secure foundation for a single tooth crown, a multi-tooth bridge, or in some cases, even a full fixed denture.
What are the benefits of dental implants?
Dental implants are designed to work just like your natural teeth, so they are permanent and stable with no removable parts. With proper care, dental implants can last a lifetime. No other tooth replacement option has such a high long-term success rate.
Dental implants allow patients to eat the foods they love and smile with confidence again. In fact, many patients find that over time they forget which teeth are real and which are implants! A few of the benefits you can expect to receive when you have your dental implants placed by the team at Star Valley Oral Surgery are:
A permanent tooth loss solution, unlike bridges and dentures, which must be replaced after several years of use
The strength and stability to eat and/or drink as you please without discomfort or embarrassment
A beautiful, natural-looking new smile and boosted self-confidence
Prevention of bone loss associated with missing teeth
No inconvenient and unsightly removable parts
Dental implants are a very popular tooth restoration solution because they provide you with a beautiful new smile as well as prevent the bone loss that occurs when teeth are missing for an extended period. Plus, most people are candidates for dental implants — in general, if patients are healthy enough to undergo a minor dental procedure, such as a tooth extraction, they will be able to receive dental implants.
Dr. Gregory McGee is passionate about providing safe, quality care to his patients and stays up to date with the latest advancements made in implant dentistry. These developments allow our team to place your implants successfully and comfortably, restoring your smile for years to come. Our staff in Star Valley, WY, are excited to care for you and schedule an initial consultation to review your dental implant needs.
To learn more about how we can help improve your smile, please contact us.
Location
Star Valley Oral Surgery
487 N. Main, Suite B1
Thayne, WY 83127
Main: (307) 883-4222
Hours: